Mmpt1CLZ0xH4VMG8P7SkVQ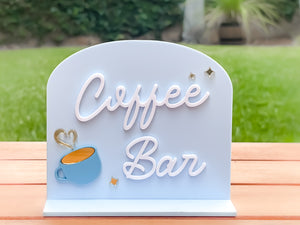 This coffee bar table sign is a great addition to any celebration! Our acrylic signs are laser cut and made to order.
This listing is for one table sign that reads "coffee bar" with a coffee mug and 3 silver mirror stars all bonded to a pastel baby blue backing.
Colors come as is.

DETAILS:

sign measures: 4" x 5" (10.1 cm x 12.7 cm) WxH
Base is not bonded to sign, base has a small slit in it for easy DIY assembly.